It's not often that a project comes along that provides a unique challenge and a chance to mark your company's place among a rich history. The Glenwood Hot Springs project was a great opportunity to prove Aquify's ability to customize a solution that not only met but exceeded the client's expectations.
The pool area before renovation
The History
The hot waters from Glenwood Hot Springs have been bubbling up from the earth for millions of years. It's been a place of healing and relaxation for Native Americans, pioneers, movie stars, and many other visitors throughout history.
First developed in 1880's by James Devereaux & Walter Horace it has been a source of health, a post-war hospital, a place for family fun, and a large piece of American history sitting on the banks of the Colorado River.
Getting the opportunity to help the hot springs lifelong tradition of adapting with the times, offered us a chance to impact the lives of countless families who will enjoy the fruits of this project in the future. A chance to become a part of that history brought an allure to this project that instantly got us excited.
The Project

The sheer volume of hot water from the hot spring is staggering. The spring flows 2500 gpm and allows them to have the largest hot springs pool in the world. The pool holds over 1 million gallons and is kept at 90° F all year long. Glenwood Hot Springs uses the hot mineral water for recreation, relaxation and resort utilities but passes all the water back to the Colorado river.
Glenwood Hot Springs had a goal of updating many of their aged amenities including an overhaul of the swimming pool into a more family friendly environment.
Several of the mechanical systems had reached the end of their lifespan and it was time to update them with better and more efficient technologies.
In the process Glenwood pulled out the old waterslides and replaced them with multiple family centered pools that enhanced the properties "Authentic Colorado" experience. They added a rapid river tube ride, kids slide area, a giant waterfall and teen pool and a fountain that engages youngsters by day and thrills spectators by night.
The Challenge
The main challenge in the Glenwood Hot Springs project came from what makes the hot springs such a unique experience: the thermal water. It comes out at a whopping 123° F and is used to heat the various pools water as well as the hotel.

The second challenge we faced was finding a solution that worked within their limited infrastructure. Glenwood needed a solution that would work with their available mechanical room space while offering a premier pumping solution.…And Aquify offered just that.
---
"Running the world's largest hot springs pool isn't always easy, the mineral water is highly corrosive, not to mention all the "normal" maintenance such a property requires. Keeping a facility that's well over 125 years old in first class condition is probably the hardest day-to-day challenge"

— Kjell Mitchell – President/CEO Glenwood Hot Springs
---
The Solution
With the help of our pump partner, Herborner Pumpen (who brought the expertise in working with thermal water) we were able to take the water data provided by Glenwood and run a water analysis to customize a pumping and filtration solution that would ensure their pumps wouldn't corrode or fail under the extreme condition of the hot spring's water. While our pumps surpassed the test of Glenwood's thermal water, they saw another opportunity where our pumps would be better utilized for their facility.
Herborner's X-Series Vertical Pumps created spacial efficiency which significantly reduced clutter in their mechanical room. From the planning stages to installation and opening, we were able to leverage the experience and expertise of our team, our partners, and our dedication to pool pumping technology to make sure that we covered all considerations of a complex project like this one.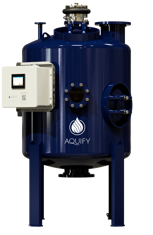 Further reducing clutter was the installation of an Aquify Regenerative Media filter to support the new splash pad with clean water for kids to play in. When working with kid-friendly fountains we take health and safety seriously, surpassing the same expectations in place for pool safety. Not only has the Aquify Regenerative Media filter been designed to filter particulates down to 1 micron, it also boasts the smallest footprint and shortest height in the industry, saving a large amount of space in a compact mechanical room.
Here are the attractions that our team worked on a solution for:
Shoshone Chutes: A whitewater river open air tube ride that plunges you downhill with plenty of twists and turns and screams. You'll feel like you're riding down a mountain creek in Colorado—with lush landscaping, cascading tiers, and boulders.


Sopris Splash Zone: A new children's play area with three mini-water slides, waterfalls modeled after the popular Hanging Lake hike in Glenwood Canyon, interactive water features, shallow play areas, and shade structures for sun protection.


Grand Fountain: A water feature that acts as a kid-friendly splash pad by day — by night it becomes a lighted fountain that can be seen by pool-goers and Glenwood Springs visitors strolling across the pedestrian bridge.
The unique challenges presented by this project were solved by our flexibility, knowledge, and creativity. We approach each client and every new project with the same focus to provide a specific and dedicated solution that uses less and provides more!
The Results
Working together with Herborner Pumpen, Cloward H2O (recreational water engineering experts), CEM Aquatics, Zancanella & Associates, and the team at the Glenwood Hot Springs, we were able to find a custom pumping solution that was much more efficient & reliable than the previous pumps.
The pumps arrived on schedule, were installed without any issues and also cost less than the other competing pumps. Talk about a win, win, win!